Playa de La Francesa is one of the best beaches on the island of La Graciosa and the perfect place to enjoy as a couple, with friends, or family. Its clear waters and white sands make this natural setting an authentic paradise which we invite you to experience. Come and see this exotic little spot on La Graciosa.
Where is Play de La Francesa?
The Playa de La Francesa is just two kilometres from Caleta de Sebo, the main town on the island of La Graciosa. It is to the south and located in an area that is frequently visited by catamarans, private yachts, and sailboats.
Features of Playa de La Francesa
Name:
Playa de La Francesa
Public transport connections:
No
Number of visitors:
Mid to high
Surroundings:
Isolated in the heart of nature
Accessibility::
Low difficulty
The Playa de La Francesa is one of the best beaches on La Graciosa. Its magnificent views over the north of Lanzarote and especially the Playa de Famara make this beach the ideal setting for all those who visit. If you are a fan of snorkelling you can enjoy the great biodiversity of the fishes living in this area. You'll never want to get out of the water!
How to get to Playa de La Francesa Frequently Asked Questions:
---
This beach usually enjoys great weather, without much wind and good temperatures.
What type of sand is there?
---
It is a beach with white sand.
---
There are no waves. There are often pleasure boats and catamarans enjoying a tour of Playa de La Francesa.
Are there any public transport connections?
---
No But you can get there by taking one of the 4×4 taxis in the town available for visitors, or by bike.
---
The beach gets quite busy around midday as lots of people enjoy a catamaran tour and then go to the beach to enjoy the sun and a swim.
Is it family friendly? Yes, it is the ideal place for a family day out.
What sports can you do at the beach there?
---
It is the perfect place for snorkelling thanks to its crystal clear waters, it is also a good place to paddle board. Thanks to the pleasant weather you can do almost any activity on the sandy beach.
---
If you are arriving by bike there is a place to leave them. If you arrive by a jeep that you have paid for from Caleta de Sebo you won't need a carpark as they will drop you off close to the beach and will even pick you up at a specific time if you so wish.
Does this beach have lifeguards?
Is this beach suitable for wheelchair users?
---
No, this beach is not recommended for those in a wheelchair.
Are pets allowed on this beach?
---
Pets are not allowed, just as with other parts of the island's coast. Despite this, there are often some local dogs.
---
Yes, it is the ideal place for a family day out.
Climate at Playa de La Francesa
This beach enjoys great weather for most of the year, with temperatures ranging from 20-26ºC, with lower temperatures during winter.
The best beaches in
Lanzarote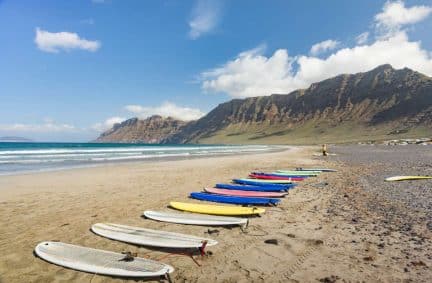 Why do a surf camp in Lanzarote?
Whether you have surfed before or not, Lanzarote is a truly unique place to enjoy an unforgettable surf camp!
Redactor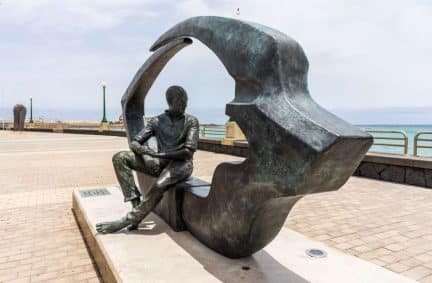 Everything you need to know about César Manrique
His great passion for nature made his works stand out, among many other reasons, for that characteristic way of Creating Art in tune with the environment. And although Lanzarote is one of the places with the largest number of works by César Manrique, we can find works by the artist throughout the Canary Islands. 
Redactor
The 5 most charming villages in Lanzarote
In case you dare to visit the villages of the island on your next trip to Lanzarote ... In this article we tell you which of them are the most charming! 
Redactor