El Jablillo Beach is a charming cove on the coast of Teguise, a kind of natural pool under the shelter of a breakwater and volcanic rock.
Its calm, crystal clear and shallow waters make it perfect for a day with children or for diving or snorkeling, some of the most common activities.
It barely has 150 meters in length but it does not lack amenities, in addition to being surrounded by a tourist area with hotels, restaurants, shops and all kinds of services.
Our recommendations close to
Playa El Jablillo
Where is El Jablillo Beach?
El Jablillo Beach is located in Costa Teguise, east of Lanzarote. It is an area protected from wind and tides naturally by a breakwater.
It is located in a semi-urban enclave, close to the shops and cafes of the promenade.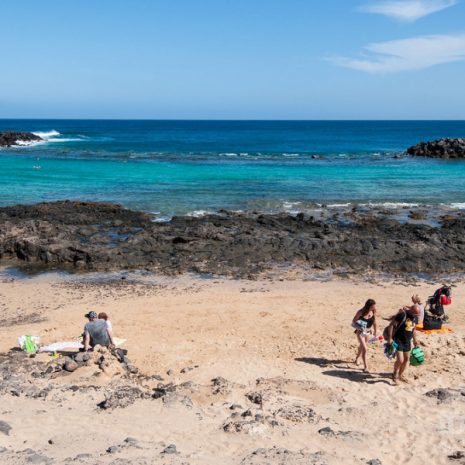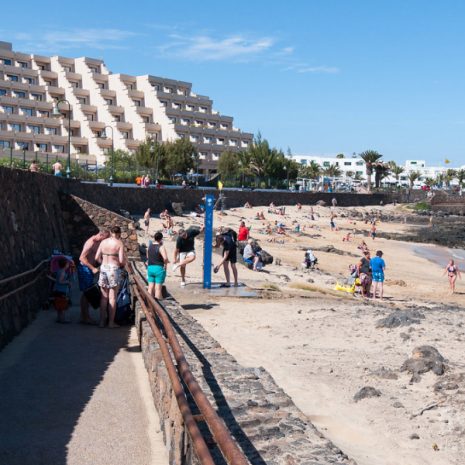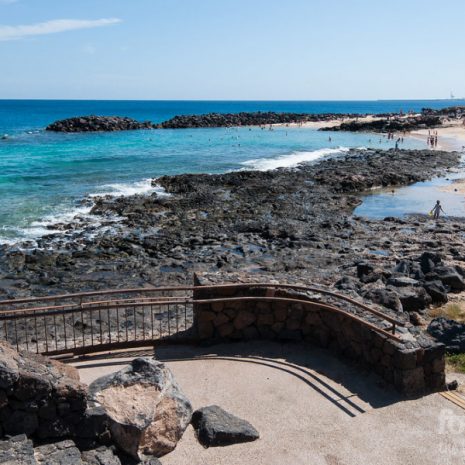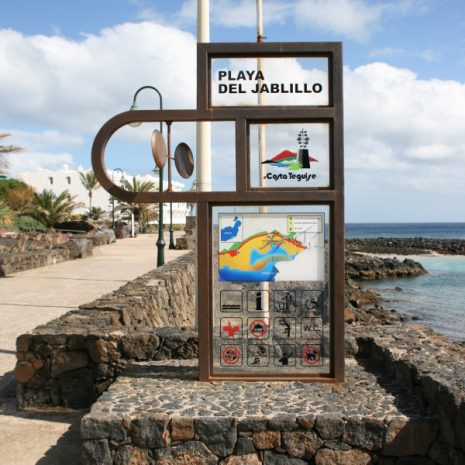 Characteristics of El Jablillo Beach
Connection with public transport
Yes
El Jablillo Beach, in Costa Teguise (Lanzarote), is a small cove, considered almost like a natural pool, with white sand and crystal-clear waters, ideal for underwater photography.
It is a beach of great beauty with a very pleasant promenade to walk along.
How to get to El Jablillo Beach? Frequently asked questions:
Does it have a connection with public transport?
---
Yes. There is a bus stop very close.
---
Yes. But it is naturally protected from the wind by a breakwater.
What kind of sand does it have?
---
El Jablillo Beach in Costa Teguise has a fine golden/white sand, which contrasts with a certain rocky areas in the access to the water.
Is this beach very crowded?
---
The beach of El Jablillo Beach is one of the favorites of tourists who visit Costa Teguise, hence in high season it is usually quite crowded.
Does this beach have many waves?
---
No. They are calm and shallow waters, turquoise, because the breakwater acts as a natural barrier against the wind.
Is this beach recommended for families?
---
It is highly advisable. It is very collected and that means that families can keep an eye on the children at all times so that they can play at their own pace
What sports can be done on this beach?
---
Diving, snorkeling and underwater photography are the favorite activities of visitors to this beach because it has transparent waters and a great wealth of fish.
---
Yes. There are quite a few parking spaces very close by.
---
Yes. It has showers and all kinds of services nearby.
Does this beach have a lifeguard?
---
Yes. On this beach there are lifeguards every day of the year.
Is this beach wheelchair accessible?
---
Yes. The beach has ramps and walkways, so there is accessibility for the whole family.
Does this beach allow pets?
---
No. Pets are not allowed on this beach.
The weather in Playa El Jablillo
El Jablillo is a beach with a warm climate, although it is cooled by the sea breeze throughout the year.
The average sea temperature is around 20ºC, reaching its maximum in September and its minimum in February.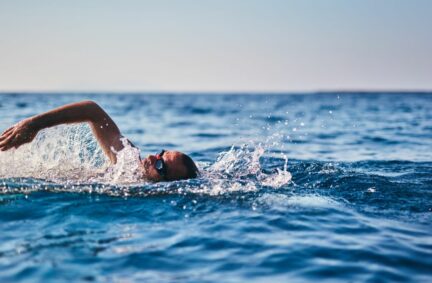 Open Water Lanzarote
The Sailfish Lanzarote Open Water, popularly known as Open Water Lanzarote, is a swimming event open to the public, both professional and amateur, which every year arouses a great expectation on the island. Do you want to know what it is and how to participate? We'll tell you everything!