Las Cucharas Beach is one of the busiest in Lanzarote due to its privileged location on costa Teguise.
A wide sandy area of fine golden sand and transparent waters, dotted with breakwaters of volcanic rocks allow spectacular photos to be taken on the beach of Las Cucharas in Lanzarote.
Surrounded by an extensive promenade, this beach is one of the most touristic on the island, so there are plenty of hotels, restaurants, bars and all kinds of entertainment and leisure around it.

What to see close to Las Cucharas Beach?
Where is Las Cucharas Beach?
Las Cucharas Beach is located on the tourist coast of the town of Teguise, surrounded by a pleasant promenade.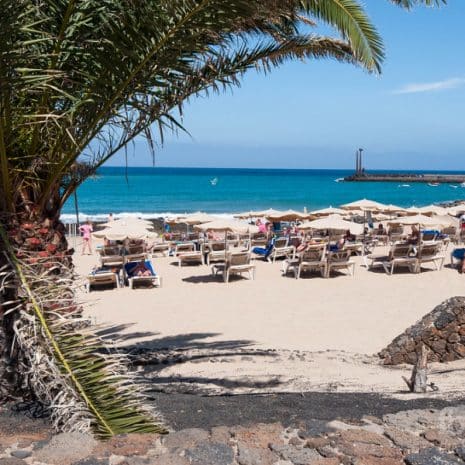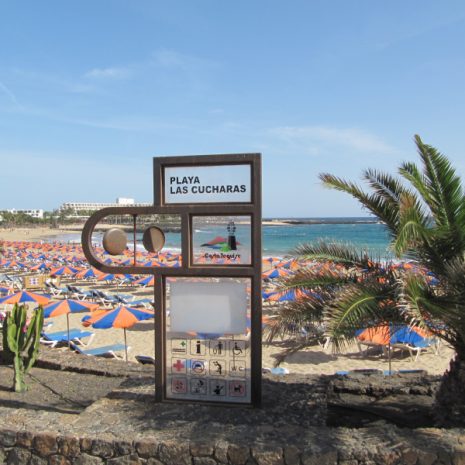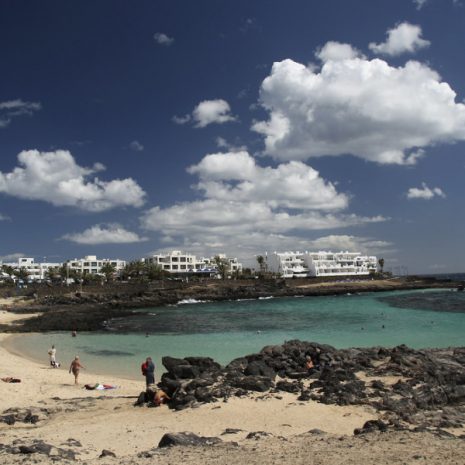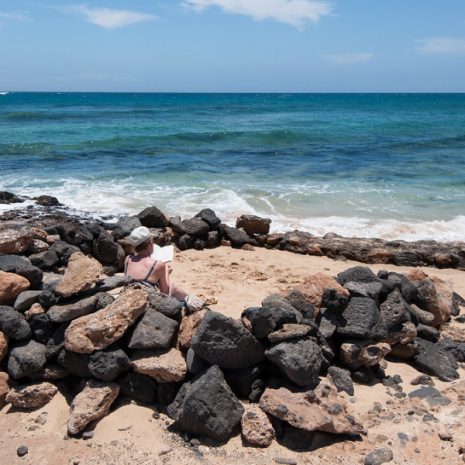 Characteristics of Las Cucharas Beach
Connection with public transport
Yes
Occupancy rate
Medium/High
One of the main attractions of Las Cucharas Beach is thepossibility of windsurfing. In fact, for many years it hosted the world championship of this discipline.
How to get to Playa Las Cucharas? Frequently asked questions:
Does it have a connection with public transport?
---
Yes. There is a bus stop nearby.
---
Yes. That is why it is one of the beaches preferred by windsurfers.
What kind of sand does it have?
---
Las Cucharas Beach in Lanzarote has fine white sand.
Is this beach very crowded?
---
Yes. It is a beach with a medium/high occupancy rate. It is generally very crowded because it is attended by tourists and water sports fans.
Does this beach have many waves?
---
No. It is a quite waters beach and has moderate waves. However there is enough wind, which gives it magnificent conditions for windsurfing.
Is this beach recommended for families?
---
Yes. Las Cucharas Beach in Costa Teguise is located in a semi-urban area with all kinds of services, prepared for family tourism with all types of comfort.
What sports can be done on this beach?
---
The sports offer of Las Cucharas Beach is very varied. Windsurfing is the star sport, with several schools, but there are also diving schools and there is a wide range of bicycle rentals.
---
Yes. There is parking near the beach.
---
Yes. There are showers and toilets for public use.
Does this beach have a lifeguard?
---
Yes. Las Cucharas Beach has a lifeguard service.
Is this beach wheelchair accessible?
---
This beach has access for the disabled and is perfectly signposted.
---
No. This beach is not one of the few in Lanzarote that can be accessed with pets.
The weather in Playa Las Cucharas
The weather in Playa Las Cucharas
The climate on the Costa Teguise, where Las Cucharas Beach is located, is pleasant all year round.
It is a desert climate, with little rainfall, but also with a short summer, which means the temperature rarely rises above 30ºC.
It is an area of winds, that is why Las Cucharas Beach is very famous among windsurfing lovers.
The best time to visit this beach is between July and September.
The best beaches in
Lanzarote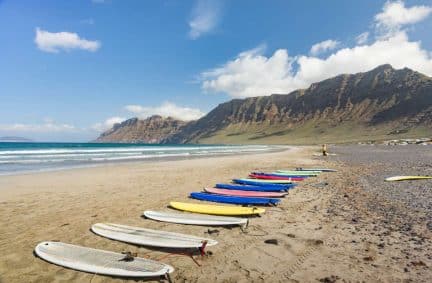 Why do a surf camp in Lanzarote?
Whether you have surfed before or not, Lanzarote is a truly unique place to enjoy an unforgettable surf camp!
Redactor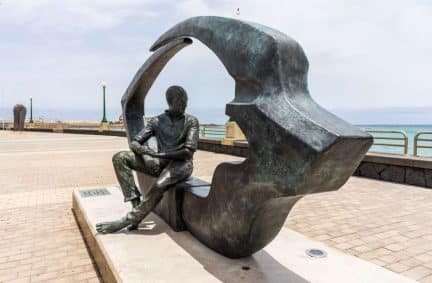 Everything you need to know about César Manrique
His great passion for nature made his works stand out, among many other reasons, for that characteristic way of Creating Art in tune with the environment. And although Lanzarote is one of the places with the largest number of works by César Manrique, we can find works by the artist throughout the Canary Islands. 
Redactor
The 5 most charming villages in Lanzarote
In case you dare to visit the villages of the island on your next trip to Lanzarote ... In this article we tell you which of them are the most charming! 
Redactor