Charco del Palo is a small town which was founded during the 70s. It is known as being an international nudist hotspot, and not just because of its beaches. In fact, throughout the town it is common to see residents wandering around completely naked, swimming and going about their daily lives. This spot offers residents and visitors a natural escape far away from the tourist resorts, where the volcanic setting can be enjoyed in its entirety.
Where is Charco del Palo?
The naturist town of Charco del Palo can be found on the northeast of the island together with the municipalities of Mala and Guatiza, both around 3 kilometres away.
Its landscape stands out for its wild surroundings, with lots of volcanic rock formations and cactus fields.
What to see and do Charco del Palo?
If you are visiting Charco de Palo you cannot miss out on visiting its natural pools. There are three bays that are ideal for swimming, sunbathing, and nudism – because, why not?
There are two natural pools at either end of the town. The pools fill up at high tide and empty out once its goes down, meaning the water is always pristine. There are stairs to access the pools, although it is not recommended to swim in them when seas are rough.
You can also dive there. Around Charco del Palo there are some of the best diving spots on the island, famous for their volcanic terrains. If you are going to dive, make sure you are accompanied by professionals.
Out of the water you can enjoy the sun, play beach volleyball or play petanque in the sand. If you are a photography fan, there are hundreds of photogenic and "instagrammable" volcanic photo opportunities.
Nearby places of interest
After a quick dip, you can go and visit the Jameos del Agua, a must-see in Lanzarote and very close to Haría. If you want to continue to explore the island's natural enclaves, we recommend visiting Punta Mujeres or the amazing Cueva de los Verdes, around 15 minutes away by car.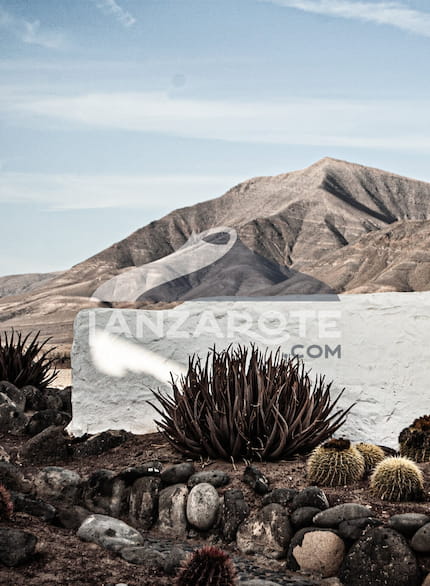 Where to eat near Charco del Palo
Within the town of Charco del Palo itself there are a few restaurants. The most recommended are: Restaurante Jardín Tropical and Restaurante Cueva Paloma. You can find traditional homecooked island food at both of these.
Shopping in
Charco del Palo
As a nudist reference area, the commercial options in Charco del Palo are somewhat limited. Between residential properties and apartments a small supermarket in a shopping centre caters to locals and visitors. Stores and restaurants are among the few locations where one has to enter dressed. The offer of stores is greater in the surrounding municipalities of Mala and Guatiza.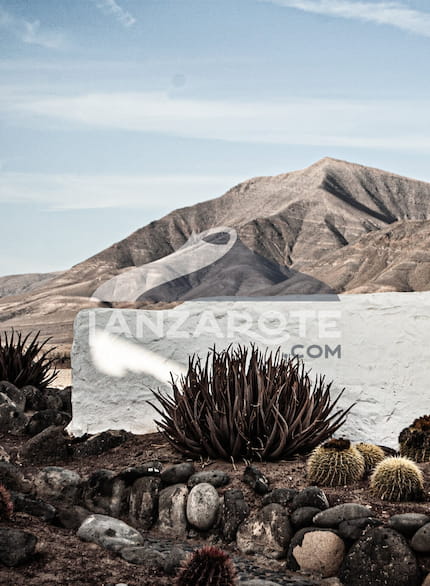 Climate in
Charco del Palo
Like the nearby municipalities of Mala and Guatiza, the weather in Charco del Palo is pleasant and not very rainy due to its arid climate. Temperatures range between 18º C and 23ºC. The best time of the year to visit this municipality is from May to late autumn.
Local fiestas in
Charco del Palo
In Charco del Palo one breathes sea and tranquillity. Most of its visitors are looking for a peaceful haven where they can disconnect from everyday noise.  Indeed, in most of its nudist resorts, celebrations such as bachelorette parties or similar events are not allowed. To enjoy popular festivities it is necessary to move to the surrounding localities.
How to get to Charco del Palo The best municipalities of
Lanzarote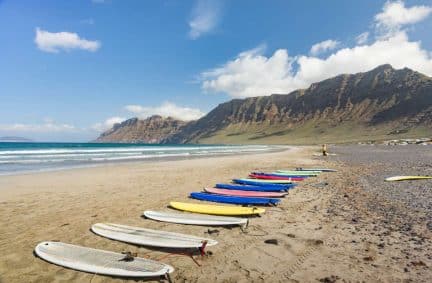 Why do a surf camp in Lanzarote?
Whether you have surfed before or not, Lanzarote is a truly unique place to enjoy an unforgettable surf camp!
Redactor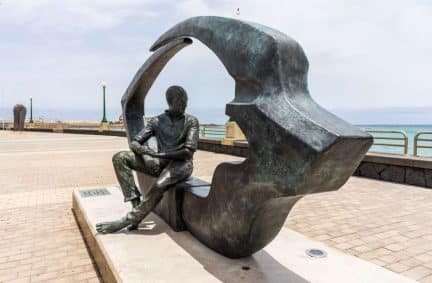 Everything you need to know about César Manrique
His great passion for nature made his works stand out, among many other reasons, for that characteristic way of Creating Art in tune with the environment. And although Lanzarote is one of the places with the largest number of works by César Manrique, we can find works by the artist throughout the Canary Islands. 
Redactor
The 5 most charming villages in Lanzarote
In case you dare to visit the villages of the island on your next trip to Lanzarote ... In this article we tell you which of them are the most charming! 
Redactor