Situated between the calderas of two volcanoes, Montaña Blanca is a paradise for trecking and bike riding enthusiasts.
It is a municipality with a rich historical tradition where you can find cave paintings of the first aboriginal settlers of the islands in the nearby caves and mountains.
Montaña Blanca is a town in Lanzarote belonging to the municipality of San Bartolome. It gets its name from the volcanic cone which can be found in the town, one of the island's highest (598m). It is located in the southeast of the island, close to the airport and tourist hotspots like Puerto del Carmen (12km).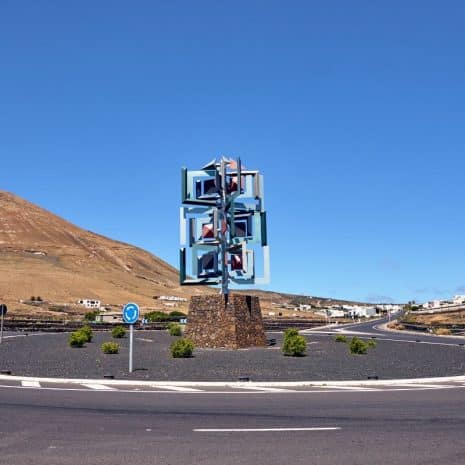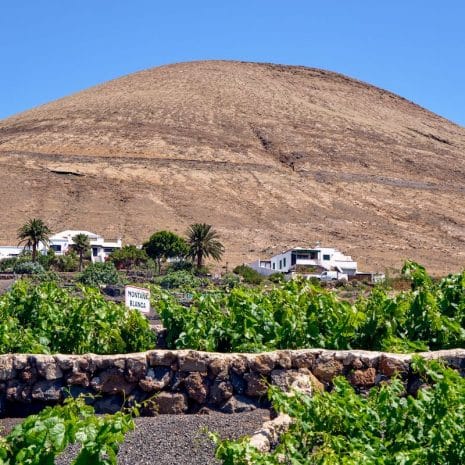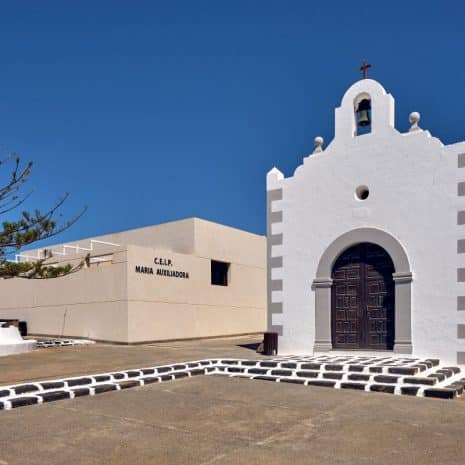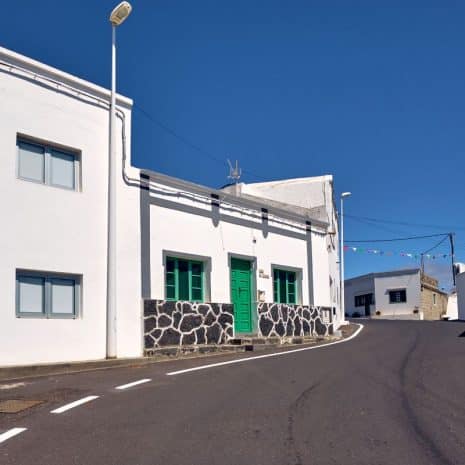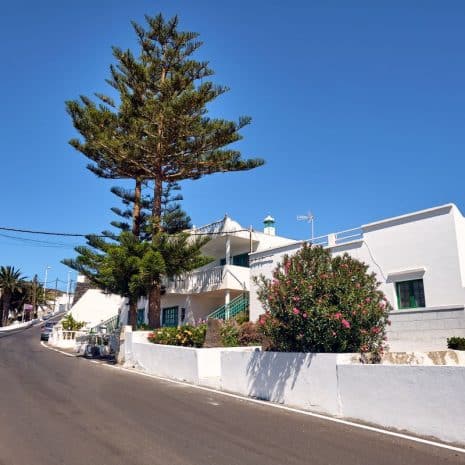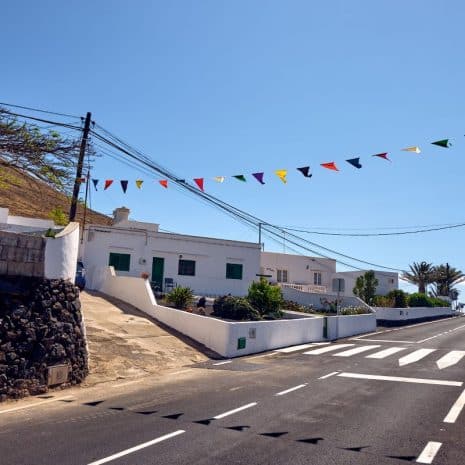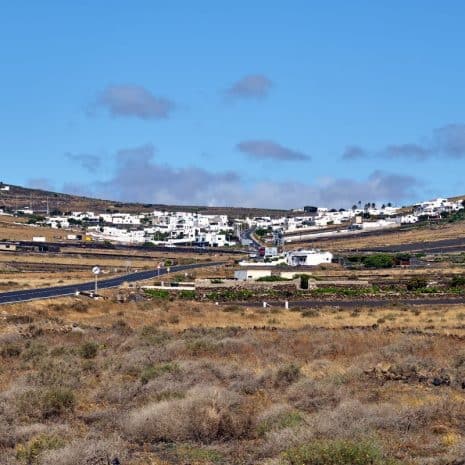 What to see in
Montaña Blanca
Montaña Blanca: From the main plaza there are various trails that lead to Montaña Blanca, the main touristic attraction in the town. If you are a nature lover and want to discover more about Lanzarote's volcanic landscapes, Montaña Blanca really is a must-see. In addition to being able to reach the volcano's crater, you can also see Las Maretas de Montaña Blanca, cisterns dug out of the southern face of the volcano and an important source of water for Lanzarote locals during the 20th Century.
Archaeological site: The mountains of Guatisea and Montaña Blanca host several pieces of rock art from the island's indigenous population (Los Majos).
Barranco Negro: On the southeast face of Montaña Blanca's volcanic cone are several precipices formed by the erosion of the water falling below. These natural forms allow us to see how the initial structure of the volcano was moulded, with lapilli and volcanic ash.
Our recommendations close to
Montaña Blanca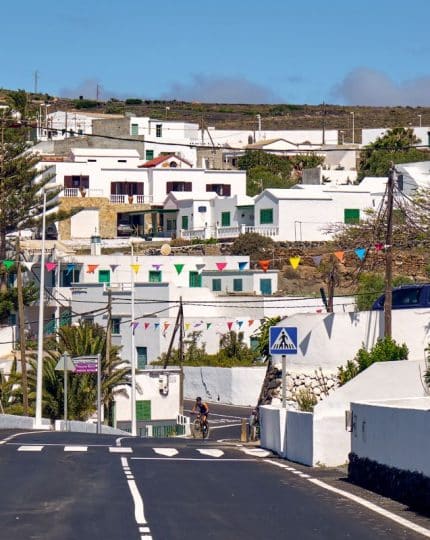 The best food in
Montaña Blanca
There is no better way to regain your strength after heading up the volcano than a good lunch or dinner at Teleclub de Montaña Blanca. The island's social and cultural centres all have restaurants serving up typical Canary Island dishes, so you have no excuse to not try our delicious fish, papas arrugadas, or the cheeses on offer. Of course, these are all always accompanied by the island's best wine and exceptional, friendly, and polite service that will make you feel right at home.
Shopping in
Montaña Blanca
If you want a souvenir from your visit to Montaña Blanca, we recommend you head to Montaña Blanca's cheese shop. There you can choose from a wide range of top quality artisan cheese; semi-mature, with paprika, with gofio…all made with the love and care of a real dairy farming family.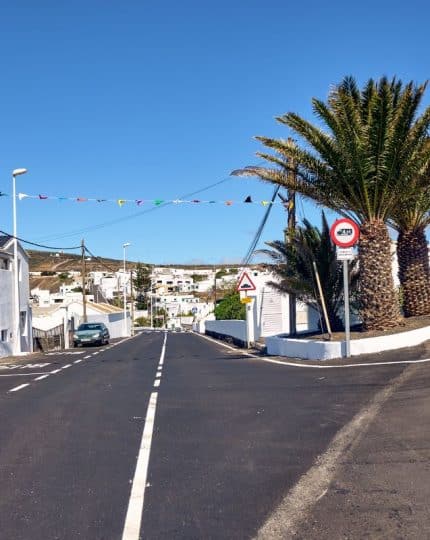 Climate in
Montaña Blanca
In Montaña Blanca temperatures can fall to as low as 2ºC during the winter months until May, and then the temperatures start to go up. Despite this, the maximum temperatures range from between 20-25 ºC, so you need to be prepared for the cold if you fancy a quick trip for lunch to this town. Rainy season is between November and March, with December being the rainiest month with 72mm of rainfall .
Local fests in
Montaña Blanca
The residents of Montaña Blanca celebrate the fests in honour of Maria Auxiliadora on 24th May. If you are staying on the island around these dates you can attend some traditional Canary Island events, such as bola canaria or card games. As night falls the celebrations really get going to liven up the town's fests even more so. A fun and welcoming atmosphere for a truly unique night on the island.
How to get to
Montaña Blanca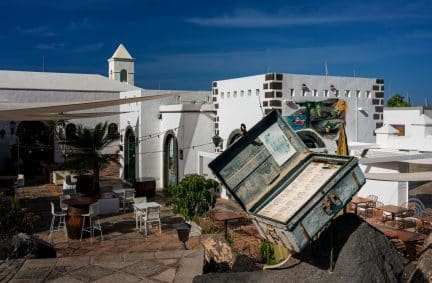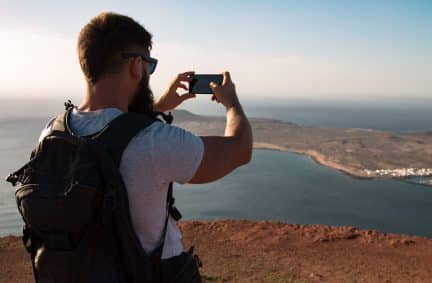 What to see in the north of Lanzarote?
Lanzarote has a lot to offer in every corner. Its amazing beaches, impossible landscapes, picturesque villages… Discovering the island is an unforgettable plan for a holiday. That's why today at Lanzarote.com we recommend you to discover the northern part of the island. You will find some of the most magical places. Take note of this plan and discover what to see in the north of Lanzarote.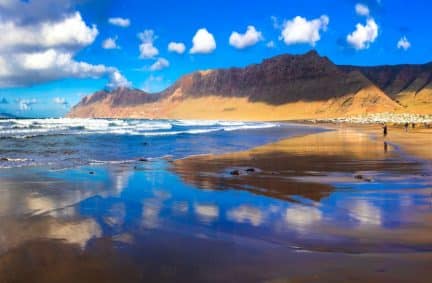 What to see in the south of Lanzarote?
The south of Lanzarote is one of the most beautiful areas of the Canary Islands due to its breathtaking volcanic landscape. This doesn't mean that we stay away from its fantastic beaches but, in addition to the usual tourist offer, we add other many attractions that you can't miss if you visit the island. What to see in the south of Lanzarote? Pay attention to our suggestions!