At the Timanfaya Volcanoes Natural Park's doorstep, Tías is the perfect starting point for all nature lovers who want to experience Lanzarote's wildest landscape. But those looking for marine experiences will also find it easy, as Puerto del Carmen, one of the most touristic areas of the coast, is only a ten minute drive away.
Tías is a Spanish municipality located in the midsouth of Lanzarote, in the Canary Islands. The territory of Tías, on the Atlantic coast, borders with Yaiza, San Bartolome and Tinajo. It is less than 12km from Arrecife, the capital of Lanzarote.
Tías is packed full of character and quirks that are well worth a visit. Some of the most touristic spots are:
La Candelaria church: this 18th Century shrine is one of Tías' most iconic buildings. With a striking bell tower, this church is one of the municipality's main attractions.
José Saramago's House: if you want to see where the Portuguese author lived, you must see his house-library. If you want, you can also go in for a guided tour.
La Geria: without doubt, one of the most impressive landscapes on the island of Lanzarote. It famous wines have led more and more people to visit La Geria to enjoy the original wines that are grown so uniquely in this part of the island.
Puerto del Carmen: one of the island's most touristic spots where you can find restaurants, shops, pubs, and luxury hotels.
Tías' Towns: the municipality is split into several picturesque towns with wonderful traditional buildings to admire such as those in Tegoyo, Masdache, and Conil.
Our recommendations close to Tías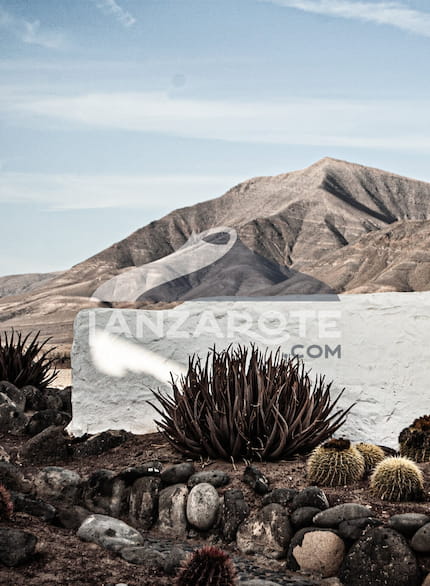 The best food in Tías
The municipality and the coastline of Tías is home to a wealth of tourist spots and maritime traditions. That is why the area's cuisine is known for its simple recipes that use high quality local produce.
Of course, in Tías it is custom to accompany any meal with a delicious local wine. In terms of specialities, grilled fish, el mojo, and traditional pork stew are the most common typical dishes.
Shopping in Tías
If you want to go shopping in Tías, you can visit the Tías open shopping district or head to the Biosfera Plaza, which is a large shopping centre where you can find the season's latest trends.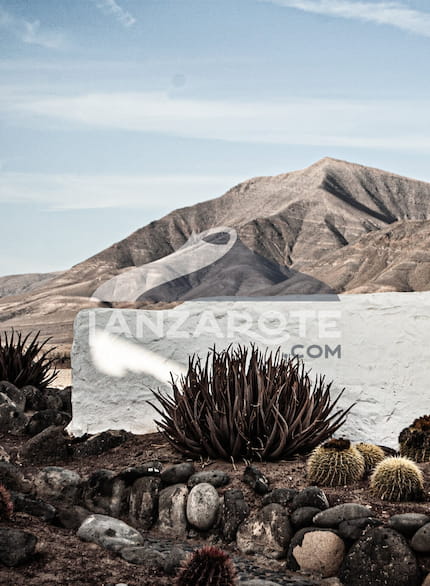 Climate in Tías
In general the climate is Tías is a desert climate, so there is not much rain, and the average year-round temperature is about 19ºC.
Although some of the fiestas celebrated in Tías are also held in other parts of the island, some of the featured fiestas are:
Ntra. Sra. de La Candelaria – 2nd February –Tías
San Blas – 3rd February – Tías
Day of the Canary Islands – 30th May – Canaria, a day to celebrate
the autonomous community of the Canary Islands.
San Antonio – 13th June – Tías
San Juan – 24th June – Puerto del Carmen
San Pedro – 29th June – Mácher
Nuestra Señora de la Magdalena – 22nd July – Masdache
Maria Magdalena y Sagrado Corazón de Jesús – 22nd July – Conil
Nuestra Sra. del Carmen – First week of August – Puerto del Carmen
Nuestra Sra. de Los Dolores – 15th September – Island Fiesta
How to get to Tías The best municipalities of
Lanzarote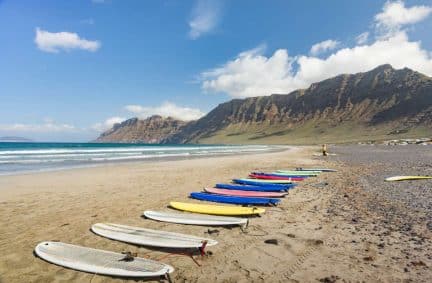 Why do a surf camp in Lanzarote?
Whether you have surfed before or not, Lanzarote is a truly unique place to enjoy an unforgettable surf camp!
Redactor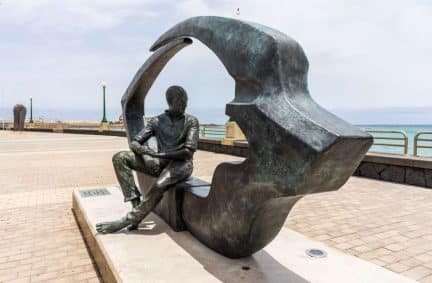 Everything you need to know about César Manrique
His great passion for nature made his works stand out, among many other reasons, for that characteristic way of Creating Art in tune with the environment. And although Lanzarote is one of the places with the largest number of works by César Manrique, we can find works by the artist throughout the Canary Islands. 
Redactor
The 5 most charming villages in Lanzarote
In case you dare to visit the villages of the island on your next trip to Lanzarote ... In this article we tell you which of them are the most charming! 
Redactor