Sancocho canario, a recipe for a unique dish
The sancocho canario is undoubtedly one of the most popular dishes in Canary Island cuisine. Regardless of which island you visit, this popular salted fish dish is well known and served almost everywhere. 
It may seem a simple dish, but to get that authentic Canary Island flavour there are a few essentials and steps to follow. Although there are several twists on the original recipe, its base ingredients are grouper (salted), boiled potatoes, sweet potatoes, and mojo. It is often accompanied with a pella de gofio. 
Do you want to make this simple Canary Island dish? See the recipe for sancocho canario below. 
Origins of sancocho canario
Sancocho canario is a traditional dish eaten in Canary Island homes on Good Friday. Its origins date back to the 19th Century when fish was only eaten in coastal towns as there was no known method of preserving it. Over time, people started to discover various methods and at the start of the 20th Century the sancocho canario was born thanks to the curing method that was used.
Little by little sancocho canario became increasingly popular among islanders and was soon a staple food for those working on the land or out at sea. As time went by the recipe was adapted on each island and in each region. 
With new technology and the influence of other cultures, the sancocho canario has changed over the years but still has the same essence and character that it always has done.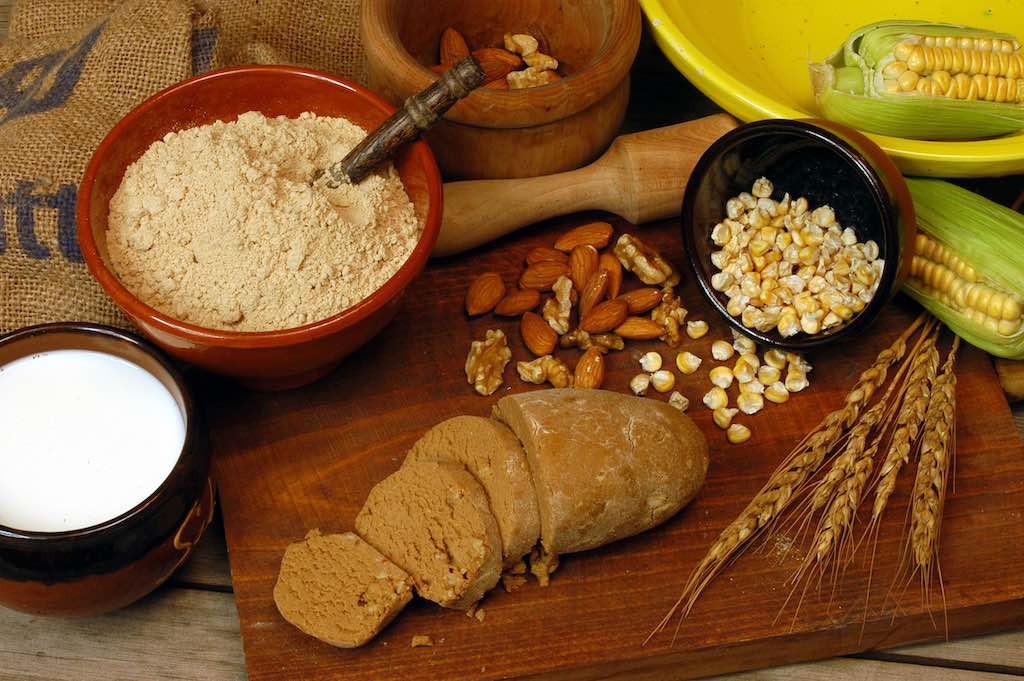 Sancocho canario recipe
Do you want to learn how to make an authentic sancocho canario? Learn how to make this simple Canary Island dish and surprise your family and friends with a different but totally authentic meal.
Sancocho canario ingredients
Serves four people:
4 fillets of salted grouper

4 potatoes

2 sweet potatoes

250 grams of

gofio

water

mojo rojo

olive oil

salt
Sancocho canario preparation
The first thing to do to make your

sancocho canario

is to

desalt the fish

. To do this, cut your grouper into individual portions and leave to soak in water for 12-24 hours. To effectively desalt your fish, change the water at least three times. 

Peel and boil your potatoes and sweet potatoes.

Leave them on boil for around 15 minutes. 

Once the vegetables have cooked,

add the desalted fish.

Leave it to cook for eight more minutes. Once the fish is cooked, take out some of the stock and keep to one side. 

To make your pella

mix the

gofio

with two tablespoons of

mojo rojo

and three ladles of the stock which we had put to one side. Work the mixture until the dough is smooth and even. Roll it up into a tube shape and leave to prove before cutting into thick slices. 

Serve

the fish with the potatoes and sweet potatoes and two slices of

pella.

Add a bit of

mojo rojo

to give the dish a bit of a kick.

 

All done! Now all is left is to enjoy the

sancocho canario!
As you can see, preparing this traditional dish is easier than you think, and it is also an interesting way of adding a new fish into our everyday diet.