La Malvas is a solitary and natural beach located in one of the lava streams from Timanfaya. If you are looking for a unique beach, Las Malvas is truly unforgettable due to its black landscape and trade winds.
Where is Playa de Las Malvas?
This small, black sandy beach is no longer than 300m. Located on the slopes of Timanfaya, it is mystic and will entice and charm all those who visit. Playa de Las Malvas faces north on to the Atlantic Ocean and is where the renowned trade winds that blow across Lanzarote come in.
Features of Playa de Las Malvas
Public transport connections:
no
The small bay known as Playa de Las Malvas is a black sandy beach which is the result of the erosion from various lava streams from Timanfaya. This makes it a unique place that is well worth a visit. It has to be one of the most mystical and special places on the island.
It is a windy beach as it is one of the main entry points for the island's trade winds. However, you can always shelter from the wind in one of the volcanic rocky nooks. The combination of black sand, the remnants of volcanic lava, and lava streams make this beach an iconic spot with stunning surroundings. It is the perfect place for those looking to connect with nature without having to deal with the bustling beaches on the island's central coast.
How to get to Playa de Las Malvas Frequently Asked Questions:
---
Yes, it is where the trade winds come in.
What type of sand is there?
---
The tide is usually strong due to the high winds.
Are there any public transport connections?
---
No, it is never very busy
---
It is not recommended for families
What sports can you do at the beach there?
---
The nearest carpark is in Tinajo
Does this beach have lifeguards?
Is this beach suitable for wheelchair users?
Are pets allowed on this beach?
---
Under the responsibility of their owners.
Climate at Playa de Las Malvas
The climate at Playa de Las Malvas is quite unique. In terms of rainfall, it is similar to that of its surrounding areas so, before going, we recommend that you take a look at the forecast for the local areas such as at Timanfaya.
But you should take into consideration that Playa de Las Malvas is a very windy beach so you should avoid going when there are trade winds on blowing on the island.
The best beaches in
Lanzarote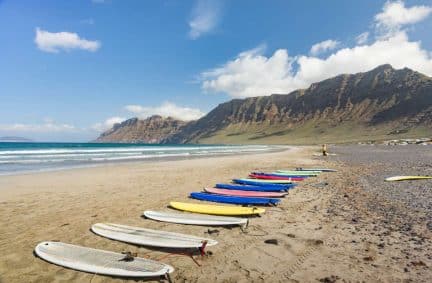 Why do a surf camp in Lanzarote?
Whether you have surfed before or not, Lanzarote is a truly unique place to enjoy an unforgettable surf camp!
Redactor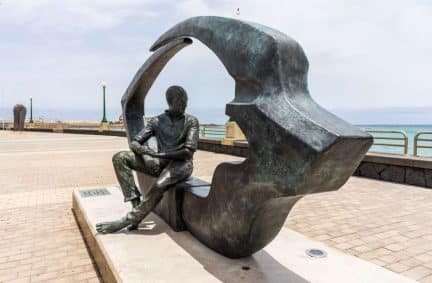 Everything you need to know about César Manrique
His great passion for nature made his works stand out, among many other reasons, for that characteristic way of Creating Art in tune with the environment. And although Lanzarote is one of the places with the largest number of works by César Manrique, we can find works by the artist throughout the Canary Islands. 
Redactor
The 5 most charming villages in Lanzarote
In case you dare to visit the villages of the island on your next trip to Lanzarote ... In this article we tell you which of them are the most charming! 
Redactor