Due to its terrain and the location of the island, all you need to do is venture slightly off the coast to be able to enjoy a vast array of marine fauna. There are different fishing areas on Lanzarote, depending on the type of fishing you want to do. Bear in mind that there are some recommendations and regulations to follow. 
Below we tell you the best places to find a good catch in the unique and captivating setting of Lanzarote.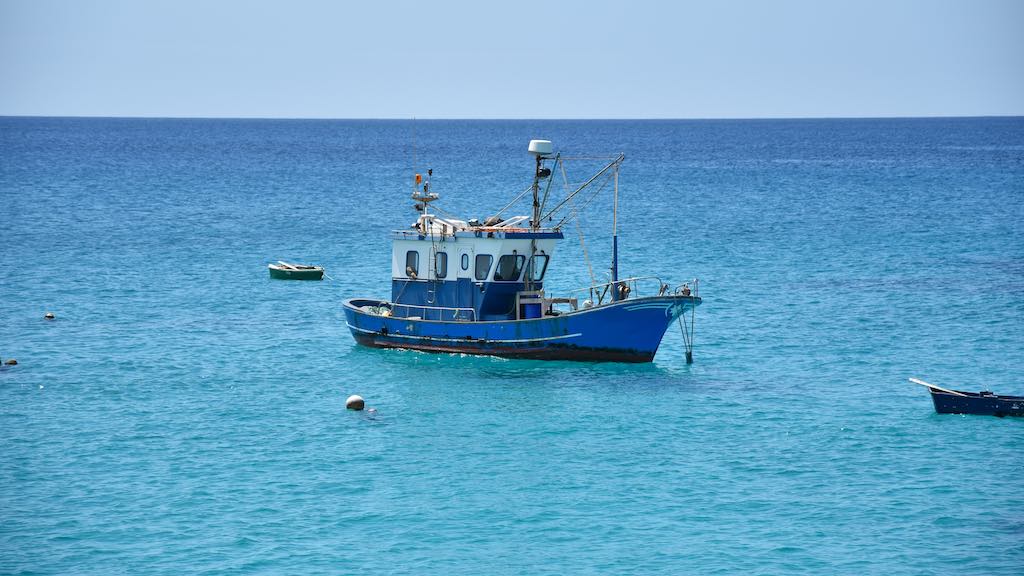 Fishing spots in Lanzarote
In Lanzarote, fishing fans can find some magical spots to enjoy their pastime in an unforgettable setting. Some of the best places to fish in Lanzarote are:
At this black sandy beach you can find sierra and barracuda early in the morning; with common pandora, sea bream, and sea bass later on in the day. At Playa Quemada you can also enjoy wonderful views of Isla de Lobos and Fuerteventura. 
One of the most popular spots to fish on Lanzarote. Its location between the sand and rocks is the perfect place to fish for barracuda, sierra, pejerrey, mackerel, and comber.
First thing in the morning you can fish for sierra and barracuda. This is also a popular beach for people exercising, so it is recommended to go first thing in the morning. 
This is a place with a lot of open water, so the fishing is often spectacular. However, you need to be experienced and skilled as the currents can be dangerous. Here you can find a range of fish, from grouper to mackerel and comber.
Here you can find horse mackerel, garfish, and greater amberjack if you head out in a kayak, or common pandora, red porgy, and  sand steenbras nearer the shore.
Due to its terrain, wind, and currents, in Lanzarote it is important to bear in mind certain recommendations to be able to fish safely and risk free. There are also specific areas where fishing is regulated or prohibited, and these rules must be adhered to.
Types of fishing in Lanzarote
Lanzarote has countless options to enjoy different types of fishing all over the island. It is important to know the differences between each of these fishing types to choose the right place to enjoy your pastime.
The main thing about traditional fishing is that it is for self-consumption. It usually only requires a small boat which heads out just off the shore and uses traditional techniques, with no technology or innovative methods which can damage the fish or the seabed. In general, traditional fishing is more sustainable and can be done using several different methods.
Sport fishing in Lanzarote
Sport fishing in Lanzarote is well known on the island. With a fishing rod and reel, sport fishing in Lanzarote is regulated and there are different forms and styles within this fishing category. Throughout the year there are often sport fishing competitions and championships that bring together hundreds of participants and visitors on the island. 
Underwater fishing, by swimming or freediving is a type of fishing where you can also enjoy the wonderful scenery of the island's surrounding seas. In Lanzarote, underwater fishing can be done from dawn to dusk, but there are certain rules and regulations to follow. You need to have a 2nd category licence. 
This form of fishing has grown more popular over the last few years in places with unique seas and tides such as Lanzarote. Using a kayak as a means of transport, this type of fishing is done by using a range of accessories which the fishers use to find some of the fishing world's most prized catches: sea trout, tuna, sabalo, cod, sailfish, mackerel, and halibut.
Bonus: How to get a fishing licence in Lanzarote?
Currently, the fishing licences issued by the Canary Islands Government are valid for three years. It is important to bear in mind that this licence only allows for the holder to fish, and it is mandatory to have one when fishing in Lanzarote. 
A Lanzarote fishing licence does not exempt its holder from following the regulations established for each type of fishing and fishing spot. It is also worth bearing in mind that you need to have authorization from the General Fishing Directorate of the Canary Islands Government to fish in Lanzarote with a boat (even in inland waters). 
The process to obtain this licence can be done online or in person at any of the offices listed below. 
This is done via the Canary Islands Government Online Platform via the following Fishing Licences link. You can get the required licence without having to visit any office in person. Once all the necessary checks have been made, you will receive a notification that you can see in the My Profile section on the Canary Islands Government website.
You can request your fishing licence in person by visiting the Information and Citizen Service Office:
Avenida Fred Olsen, s/n. Arrecife

Telephone Nos.: 928 81 01 00 (Ext. 2359)/928 81 01 00 (Ext. 2103) 
We recommend you!